Kisame Hoshigake
, feared as the 
Monster of the Hidden Mist
, was a 
S-rank
missing-nin
 from 
Kirigakure
's 
Seven Ninja Swordsmen of the Mist
 and was a member of the 
Akatsuki
, partnered with 
Itachi Uchiha
.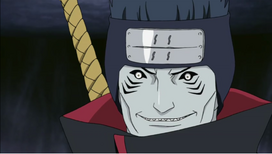 Appearance
Edit
Personality
Edit
Series Plot
Edit
Appearances in Other Media
Edit
Powers and Abilities
Edit
Natural Abilities
Edit
Ninjutsu Expert
Physical Prowess

Immense Strength
Immense Endurance
Immense Durability
Enhanced Speed
Skilled Combatant
Equipment
Edit
List of Moves and Techniques
Edit
List of Awakenings
Edit
Relationships
Edit
Friends/Allies
Edit
Enemies/Rivals
Edit
My Samehada doesn't slice, it cuts you to ribbons!
So, you must be the great Sonic the Hedgehog, huh? It's too bad that you will be broken into shreds!
Doctor Eggman was looking for more allies, Sam, so I came to him for help.
Sorry, Foxboy, but your little bunny girl is done for!
I've been expecting you, Shadow.
Impossible! I almost had that bunny girl, Foxboy, but you were so fast!
We are planning our next attack, Doctor.
Zavok, that's a brilliant idea! We will not only destroy Sonic and Naruto, but especially that puny planet, ONCE AND FOR ALL!
Don't drop your guard, bunny girl! You're coming with me.
Muahahahahahahahahahahaha! You fell into my trap easily, Sonic!
That insolent kitsune brat! He's caught that bunny girl again!
​​​​​​SHUT UP, YOU DOME-HEADED KLUTZ! Don't make me shred you into scrap metal, or I'll have a bone to pick with you! Wait... you don't have bones.
Nice try, Knucklehead, but your puny fists are no match for me!
Your taunts don't outsmart me, blue boy! 
I know you can count on me, Doctor Eggman. All ninjas, eliminate that annoying hedgehog!
​​​​​​How in the world am I supposed to put up with those rust bucket dimwits?
Community content is available under
CC-BY-SA
unless otherwise noted.