Orochimaru 
is one of 
Konohagakure
's legendary 
Sannin
. Whith a life-ambition to learn all of the world's secrets, Orochimaru seeks immortality so that he might live all of the lives necessary to accomplish his task. He defected from Konoha rather than be persecuted for his ambitions, and for many years sought the village's destruction in order to take revenge and demonstrate what he has learned.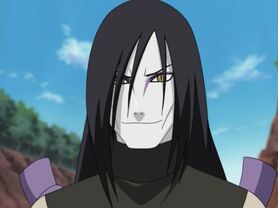 Information Box
Edit
Appearance
Edit
Personality
Edit
Series Plot
Edit
Appearances in Other Media
Edit
Powers and Abilities
Edit
Ninjutsu Master

Nature Transformation
Immortality Techniques

Snake Techniques
Taijutsu Expert

Master Hand-to-Hand Combatant
Enhanced Strength
Enhanced Speed and Reflexes
Enhanced Endurance
Enhanced Durability

Genius-Level Intellect

Master Strategist and Tactician
Master Manipulator

Master of Stealth
Espionage, Escapism and Subterfuge Expert
Expert Tracker
Body Modifications
Experimentation
Equipment
Edit
Inventions
Edit
List of Moves and Techniques
Edit
List of Awakenings
Edit
Relationships
Edit
Friends/Allies
Edit
I am the immortal Orochimaru! And I have no equal.
Community content is available under
CC-BY-SA
unless otherwise noted.