Rojuro Otoribashi
, more commonly referred to as 
Rose
, is the captain of the 
Third Squad
 in the 
Gotei 13
 and a 
Visored
. His lieutenant is 
Izuru Kira
.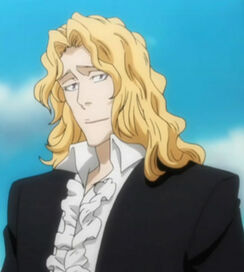 Information Box
Edit
Appearance
Edit
Rose has purple eyes, short slicked-back, wavy blonde hair with a single lock falling into his face, and a perpetually bored expression. Rose wears the standard Shinigami robes and a sleeveless captain's haori, but with a frilled collared shirt under it.
Personality
Edit
Series Plot
Edit
Appearances in Other Media
Edit
Powers and Abilities
Edit
Master Swordsman - Rose views himself as a capable swordsman.
Great Spiritual Power
Kinshara (Golden Sal Tree) - In it's sealed form, the hilt-guard of Rose's Zanpakuto is shaped like a diamond, with curved concave angles, and has an orange hilt. Arpeggio
Shikai Special Ability
Bankai: Kinshara Butodan (Golden Sal Tree Dancing Troupe)
Bankai Special Ability
Hollow Mask
Power Augmentation
List of Moves and Techniques
Edit
List of Awakenings
Edit
Relationships
Edit
Friends/Allies
Edit
Community content is available under
CC-BY-SA
unless otherwise noted.