Rojuro Otoribashi
, more commonly referred to as 
Rose
, is the captain of the 
Third Squad
 in the 
Gotei 13
 and a 
Visored
. His lieutenant is 
Izuru Kira
.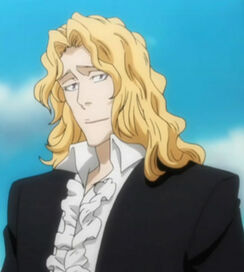 Information Box
Appearance
Rose has purple eyes, short slicked-back, wavy blonde hair with a single lock falling into his face, and a perpetually bored expression. Rose wears the standard Shinigami robes and a sleeveless captain's haori, but with a frilled collared shirt under it.
Personality
History
Series Plot
Appearances in Other Media
Powers and Abilities
Master Swordsman
Kido Expert
Shunpo Expert
Great Spiritual Power
Kinshara (Golden Sal Tree)
Shikai Special Ability
Bankai: Kinshara Butodan (Golden Sal Tree Dancing Troupe)
Bankai Special Ability
Hollow Mask
Power Augmentation
List of Moves and Techniques
List of Awakenings
Relationships
Friends/Allies
Enemies
Quotes
Trivia
Images
Community content is available under
CC-BY-SA
unless otherwise noted.