Shino Aburame 
is a member of 
Konohagakure
's 
Aburame Clan
 and a member of 
Team Hirashi
.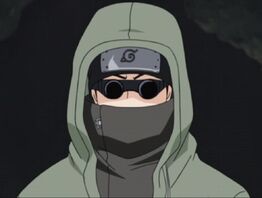 Information Box
Edit
Voice Actors
Edit
| | |
| --- | --- |
| Japanese Voice Actor | |
| English Voice Actor | |
Appearance
Edit
Shino is a fair-skinned ninja and the tallest member of his graduating class. He has dark, bushy, brown hair, and dark narrow eyes, which can be seen on a few occassions.
Shino wears the new standard Shinobi attire; consisting of a dark green chest-guard with clipped-on shoulder pads and high collars, and a pair of black shades. He also wears a grey shirt with matching pants under a light grey button-up jacket. The jacket also has a hood which he keeps over his head.
Personality
Edit
Since his early childhood, Shino has been a calm, collected, and solitary person, who is quite mysterious. Shino is portrayed as being somewhere between merely stoic and matter-of-fact, rarely ever smiling or showing emotion at all; rather than thank his team-mates for congratulating him on his victory in the preliminaries, he told them that he expected them to do the same. He also has a tendency of holding grudges and being rather intimidating, such as seen when Naruto failed to recognise him at the start of Part II (which is fair as the only visible part of his face were his sunglasses), but easily recognised Kiba and Hinata. He still holds that grudge to this day. 
Shino seems to be aware of these odd personality traits; in the anime, when he ate food poisoned with a chemical that forced him to laugh, he menacingly told Naruto to forget it had ever happened. His interest in insects only helps him strengthen this viewpoint; by spending most of his spare time watching them, and often making analogies to insects when talking, people have come to identify Shino as "creepy", and tend to dislike being in his company for prolonged periods of time. 
Despite occasionally arguing with Kiba, Shino has a very strong sense of connection with his team-mates and allies, first seen when he regretted being unavailable and therefore unable to help with retrieving Sasuke Uchiha. From that point onwards, he resolved to work on his teamwork skills with Kiba and Hinata. He even helped Hinata to improve her abilities, and is one of the few people, besides Naruto, who openly professes confidence in her. The fruits of his efforts are seen in the anime, where Shino was able to carry out a mission successfully while also keeping others safe. He also proves to be able to understand his team-mates' inner workings, sensing when the slightest of things is wrong with either of them. During the Fourth Shinobi World War, he also went out of his way to keep his team-mate's chakra flow active through the use of his insects. 
Shino speaks in a curious fashion, as noted by both Naruto and Kiba. He speaks in a manner most simply described as "nitpicking" and uses the word because a great deal. To others, his manner of speaking seems like over concern with the trivial points of a conversation which could be left unsaid, or, providing information that will leave questions that could possibly be asked — already answered.
Series Plot
Edit
When Worlds Collide Arc
Edit
Appearances in Other Media
Edit
Powers and Abilities
Edit
Natural/Shinobi Powers and Abilities
Edit
List of Moves and Techniques
Edit
Relationships
Edit
Friends/Allies
Edit
Community content is available under
CC-BY-SA
unless otherwise noted.