Tsunade 
is one of 
Konohagakure
's three legendary 
Sannin
 and the its' Fifth 
Hokage
. She is also known as the world's most powerful 
Kunoichi
 and its' greatest 
medical-nin
.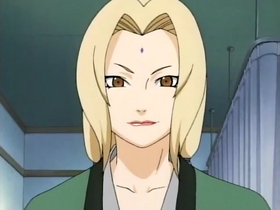 Information Box
Edit
Biological Overview
Edit
Voice Actors
Edit
| | |
| --- | --- |
| Japanese Voice Actor | |
| English Voice Actor | Debi Mai West |
Appearance
Edit
Tsunade is a light-skinned woman of average height with brown eyes, and straight, blonde hair. Her hair is waist-length with shoulder-length bangs framing both sides of her face, along with tying her hair into two losse ponytails. She also has a violet rhombus mark on her forehead similar to her grandmother's, which she uses as a chakra gathering point known as the Reverse Seal.
In her fifties, Tsunade has aged considerably. However, she maintains the appearance of her younger self through a unique and constant Transformation Jutsu. In her prime, the appearance she normally takes, she has a slender frame. Despite being known as flat-chested in her childhood, she now has a rather large bust; 106 centimeters in circumference, according to Jiraiya. Her beauty has been pointed out several times and she's been called the most beautiful kunoichi in the world by several characters.
She often wears a grass-green haori with the kanji for "gamble" written in black on the back, inside a red circle. Underneath she wears a grey, kimono-style blouse with no sleeves, held closed by a broad, dark bluish-grey obi that matches her pants. Her blouse is closed quite low, revealing her sizeable cleavage. She wears open-toed, strappy black sandals with high heels and red polish on both her fingernails and toenails.
Personality
Edit
When she was first introduced, Tsunade was cynical of anyone with dreams, especially those who want to become Hokage, believing that it was a futile dream. This mindset was expressed when Tsunade not only declined the offer of becoming the Fifth Hokage, but claimed that anyone who wanted to become Hokage was a fool. After meeting Naruto Uzumaki, she realises that this cynicism is insulting to the memories of both Dan and Nawaki. After seeing Naruto's conviction to become Hokage and proving her wrong in his ability to learn the Rasengan, she has a change of heart. Despite her still blunt attitude towards Naruto, she has come to care for him deeply and puts her faith in him for the future, even agreeing to take on the mantle of Hokage herself, carrying on the dreams of Dan Kato and Nawaki. As Hokage, Tsunade has shown the same level of loyalty to the village that previous Hokage held; during the invasion of Pain, she released all of her chakra in order to save the lives of thousands of people within Konoha, at great personal risk. Tsunade also has a great deal of faith in the next generation, and sees the potential that Naruto and the rest of the Konoha 11 hold. 
Tsunade typically projects a tough demeanour, even when facing great personal difficulty. She readily criticises others for their faults, such as Naruto's immaturity or Jiraiya's perversion, though her habits are rarely any better. Another trait of Tsunade is her monstrous and quick temper. Many fear her because of this, such as Shizune, Jiraiya, and Sakura Haruno, the latter of whom has on several occasions warned Naruto on how to behave in her presence. Despite her temper, Tsunade is a reasonable person. She was willing to listen to Pain and even admit Konoha's past faults though he was the one who killed Jiraiya and was threatening her own village. 
Beneath this tough exterior, Tsunade truly loves her village and its people and will at times show sympathy for others, consoling Shikamaru Nara that, while he failed his mission to return Sasuke Uchiha to Konoha, all of his team-mates survived. This is also shown when she worked hard in order to help heal Rock Lee, so that he might continue to be a ninja. In life-threatening or important situations that involve putting someone she cares for in danger, she tends to get angry with people who disagree with her plan, such as the restrictions the Konoha Elders placed on Naruto, or the argument on whether Naruto and Killer Bee should participate in the Fourth Shinobi War, even calling Gaara a "child" when he disagreed with her. As with all Hokage before her, Tsunade deeply believes in the Will of Fire. 
Tsunade also has a firm belief that Naruto, and all jinchuriki, are people rather than instruments of war. She has always voiced that Naruto is a great ninja and should be used by the village as any other ninja would be. This value is so strong in Tsunade that she yelled at the other Kage for not allowing Naruto and Killer B to fight in the Fourth Shinobi War. Although she eventually agrees to keep the jinchuriki away from the battles, she is outraged when A decides to kill Naruto to prevent him entering the war. Tsunade then turns on A, saying that they need to use the jinchūriki in the war if they are going to win. This shows her great faith in Naruto to end the war, as she was even willing to challenge the Raikage in order to let Naruto and B pass. 
As a legendary medical-nin, Tsunade truly is a role model for other medical-nin to follow. Her first priority in any situation is the lives of others. She created four rules that guides other medical-nin on the battlefield, one of which is that they should never give up on treating their comrades as long as they are still breathing. When Pain attacked Konoha, she actively took on the role of a medical-nin, healing all the injured shinobi while even having Katsuyu protect the corpses of the deceased, and did all she could to protect the village, even if it meant that she had to risk her own life. Because of this, even the persons that were later revived by Nagato, had bodies to return to. In the fight against an extremely powerful opponent like Madara, she was the one who received the worst injuries. However, she was still the only one who was able to regain consciousness, and still put the lives of the other Kage, before her own.
Tsunade is also a compulsive gambler, a trait she inherited from Hashirama, with a losing streak due to her terrible luck. As a result, she has been elevated to a comical status as "The Legendary Sucker" because of the gross profits others have made off of her misfortune and gambling addiction. In the rare instances that Tsunade hits a winning streak, she takes it as a bad omen that will eventually affect her, or her comrades. However, using this to her advantage she can take steps to protect herself and her comrades. The symbol on the back of her coat, means "gamble", or "wager", as gambling is one of her favourite pastimes. 
Despite Tsunade shunning all of Jiraiya's romantic advances over the years, as she was still in love with Dan even after his death, she still cared very much for him as one of her oldest friends. While he was in Amegakure investigating Pain, she bets that he will die so that her terrible luck will ensure he survives. When she finds out he has died, she thinks back on their time together and mourns privately for the loss of her dear friend.
Series Plot
Edit
Appearances in Other Media
Edit
Powers and Abilities
Edit
Equipment
Edit
List of Moves and Technqiues
Edit
List of Awakenings
Edit
Relationships
Edit
Friends/Allies
Edit
Community content is available under
CC-BY-SA
unless otherwise noted.